Let's face it, there are times when we really want to buy something yet the thought of leaving our wallet empty holds us back. In a case like this, promotions and awesome deals got covered! The good news is, this month has a lot of in-store promos and deals for you!
1. Get a Starbucks drink without any consumption
Starbucks and Samsung collaborate for the first time! Samsung mobile phone brand users can get a FREE Grande-sized beverage when you download the Samsung Member App and register as a Samsung Member. Promo runs until the 15th of April and can be enjoyed at all Starbucks branches except the outlets of Genting Highlands, Sunway Lagoon Kiosk, and Petronas Kiosk.
2. McDonald's McValue Package
Whether it's for lunch or dinner, you can have a sumptuous McDonald's dining experience with the McValue package from RM7.95! Download the McDonald's App to this deal. The Value Lunch Package is open from 12:00nn to 3:00pm while the Value Dinner Package is available from 6:00pm to 9:00pm. Take note that promotion is not valid in Genting Highlands, Langkawi, and airports.
3. KFC Self Collect
Are you a KFC fan? If yes, your favorite fast food chain has promotions for you! Order using the KFC App or kfc.com.my and go to your chosen branch to pick up your own meal at special prices. Promotion is valid until May 4th.
4. Sakæ Sushi Value Set from RM11.88
Get your taste buds dancing with delight as Sakæ Sushi launches a new Japanese set menu at a low price of RM11.88! Visit Sakæ Sushi's two branches (JB City Square and Tesco Desa Tebrau) from Monday to Friday at 11:30am to 6:00pm.
5. 大嘴叭loudspeaker
Apart from singing along with your KTV buddies, 大嘴叭loudspeaker has recently launched small games for you!
Rock. Paper. Scissors: Look for the King of rock 'n roll (wearing a special badge) in the outlet. Once found, high five with the king of rock n' roll and shout "The king is here!" Lastly, play rock, paper, scissors with the king of rock n' roll. 3 to 5 continuous wins can get a special prize.
The game is open until 26th of April (every Friday) at 8:00pm to 9:00pm.
6. GSC launches Avengers: End Game Limited Edition Tumblers and Exclusive Iron Man Metal Container
Calling the attention of all Avengers fans! GSC lets you take home four Avengers limited edition tumblers and Iron Man metal container! Choose from the two packages offered to enjoy these cool tumblers and metal container.  
Package 1: One Avengers: End Game Limited Edition Tumbler + One Popcorn (R) + One Cup of Carbonated Drink (R) at just RM28++
Package 2: One Avengers: End Game Limited Edition Tumbler + One Popcorn (L) + Two Cups of Carbonated Drinks (R) at RM50++
7. Birkenstock Malaysia Easter Clearance Promotion
In line with the holy month of Ramadan, Birkenstock has an Easter offer running until April 30th. Get to enjoy a 10% discount on the first pair of Classic item and get the second pair at 20% off. Buy 1st pair of Eva items and get the 2nd pair at 10% off. You can also get 30% off on the first pair of Papillio Styles and buy the second pair at 40% off.
8. Innisfree Offer
Innisfree has three (3) great deals for you! You can get 4 green tea moisturizers only at RM103.50. Purchase a set of Ampoule Intense Cushion to get a free refill. Plus, you can get to enjoy free Jeju Volcanic Trial Kit by spending RM120.
9. FamilyMart Sensations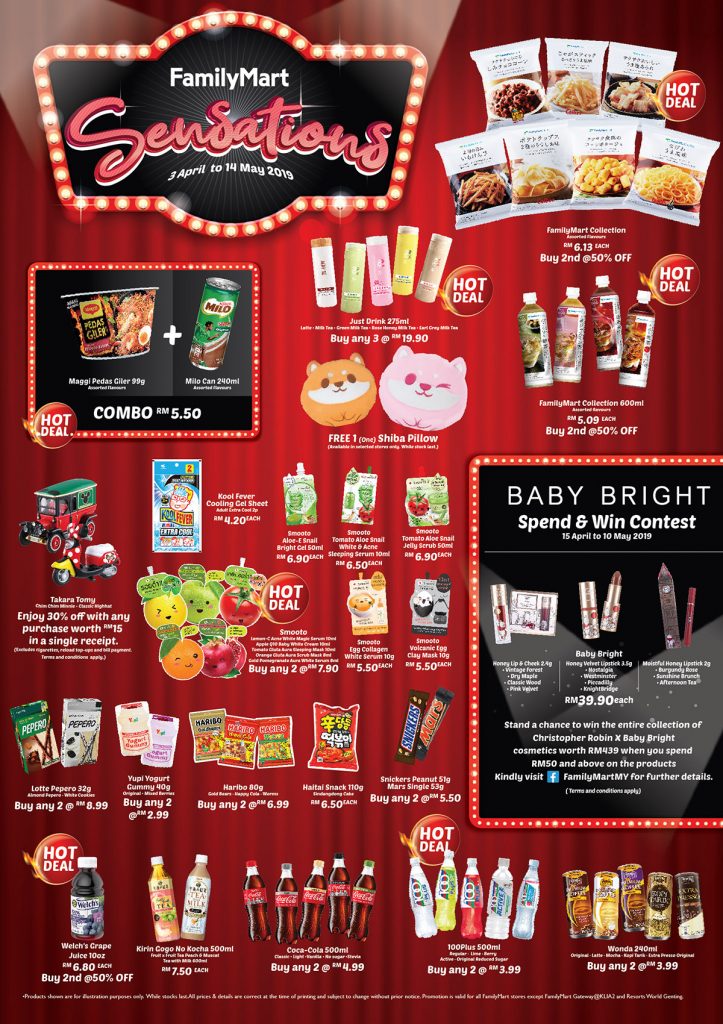 FamilyMart lets you enjoy a variety of promotional packages until May 14th! Visit FamilyMart and get big discounts.
10. GSC Member Rewards
The three chains of cinemas in Malaysia (TGV, GSC, and MBO) give free tickets to April babies! Get up to 6 tickets by following these steps:
? GSC Cinema: GSC members need to present their ID card to the GSC counter to redeem 2 free movie tickets.
? MBO Cinema: MBO members need to bring MBO ALLSTAR Card and ID to the ticket counter to request a free movie ticket.
? TGV Cinema: Get 2 free movie tickets and 1 regular popcorn on your birthday month. In order to get this, one must be a TGV MovieClub member.