The Chinese New Year is fast approaching! The event is also known as the Spring Festival in mainland China. And since spring is the season when flowers start to bloom again after the winter in other countries, many different kinds of beautiful flowers can be seen everywhere! Flowers are believed to bring wealth and good fortune, that's why it is a great decoration every Chinese New Year! Let's visit 6 shops to buy beautiful flowers in Johor Bahru!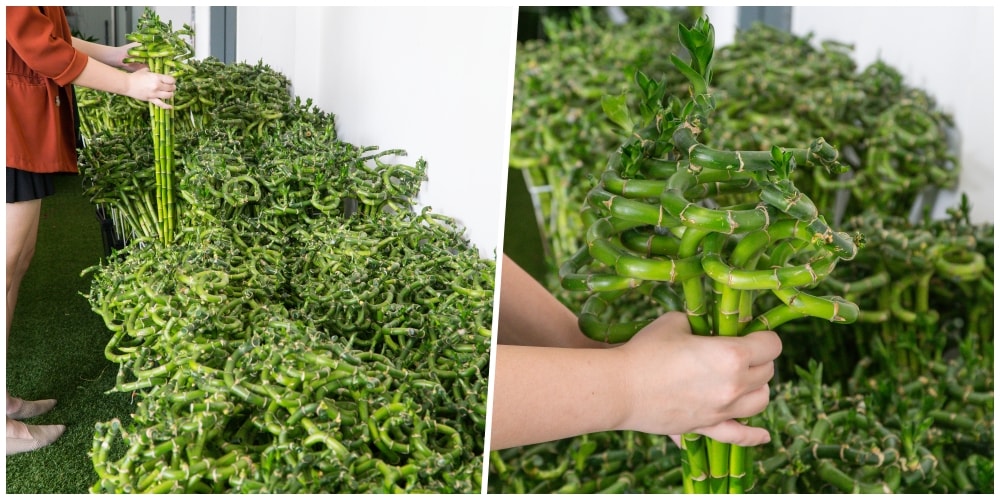 Pudu Ria Florist Trading Sdn Bhd is always included in flower shops to visit on any occasion, especially the new year. Their different kinds of flowers are available for wholesale, retail selling, custom bouquets, flower stands, and accessories. There are also a variety of shapes and sizes of succulents.
Location: No. 1 & 3, Jalan Permas 9/17, Bandar Baru Permas Jaya
Business Hours: 2-23 Jan 2020, 8:00am – 9:00pm; 24 Jan 2020, 8:00am – 2:00pm
Contact: 07-3862955; 07-3862965
For orders: 011-1663 0336; 014-331 1033
Waze:  https://waze.com/ul/hw23bd81eu
Official Facebook: https://www.facebook.com/PuduRiaJB/?hc_location=ufi
Official Instagram: @pudu_ria_florist_southern
The Craft Decor is, in fact, a well-known for wedding and event decorations. If you are looking for beautiful and colorful flower arrangements with lovely flowers, they can give it to you. They use the finest quality of artificial flowers in different colors and kinds, but they look as close to the real ones and last a long time! Also, The Craft Decor sells peonies and cherry blossoms, which symbolizes wealth and prosperity and longevity, respectively. 
Location: 4, Jalan Kempas Lama 1, Off Jalan Kempas Lama, 81300 JB
Business Hours: 9:30am – 8:30pm
Contact: 07-5506811
Facebook Page: https://www.facebook.com/thecraftdecor/
Website: http://thecraftdecor.com.my/
The colors attract the eyes, making the flowers look more lovely! Here, there are plenty of flower selections, including peach blossoms, chrysanthemums, golden fruit, bromeliads, and many more! In addition to that, they arrange a small orange tree that you can order and they will send it straight to your home. 
Location: Lebuhraya Senai, Kampung Jaya Sepakat, 81400 Senai, Johor
Business Hours: 8:00am – 11:00pm
Waze: https://waze.com/ul/hw239n9dk2
Agro Nursery Landscape & Supply Sdn Bhd 富丽·园艺设计 operates in the Greenhouse, Nursery, and Floriculture Production industry. Every year, people love to buy their signature potted flower arrangements. They look very adorable and lively! 
Location: Lot482, Jalan Adda Utama, Taman Adda Height, 81100 JB
Business Hours: 8:30am – 8:30pm
Contact: 016-765 6339
An extensive collection of high-quality plants and trees is what's waiting for you at Katsura Gardens. To cater to any occasion. there are different types of plants in their plant library, such as broadleaf evergreens, deciduous shrubs, Japanese maples, perennials, and so on. They also have orange trees, cherry blossoms, and chrysanthemums. 
Sutera Main Store
Location: Jalan Sutera Danga, Taman Sutera Utama, 81300 Johor Bahru, Johor
Open 24 hours
Contact: 019-729 6000
Facebook Page: https://www.facebook.com/Katsura-garden
Taman Daya branch
Location: Jalan Sagu 21, Taman Daya, 81000 Johor Bahru, Johor
Business Hours: 8:00am – 11:00pm
Contact: 011-1111-1931
Facebook Page: https://www.facebook.com/pg/Idaman-Flora-Katsura-Group-141337616558348/about/?ref=page_internal
Perling branch
Location: Lot 51713, PTD 32090, Jalan Rawa, Taman Perling, 81200 Johor Bahru, Johor
Contact: 0127915440
Facebook Page:
Bukit Indah branch
Location: PTD 124419, Jalan Indah 23/2, Taman Bukit Indah 2, 81200 Johor Bahru, Johor
Contact: 011-111 9331
Facebook Page: https://www.facebook.com/Blooming-Garden-Enterprise-316254348870278/
Mount Austin branch
Location: Jalan Mutiara Emas Utama, Taman Mount Austin, 81100 JB, Johor  (Besides McDonald)
Business Hours: 8:00am – 7:00pm
Contact: 019-772 5000
Facebook Page: https://www.facebook.com/BUMI-EMAS-Lanskap-a-member-of-katsura-group-351204988355907/
Aside from chrysanthemums, orange trees, rich bamboo, and cherry blossoms, Soon Brothers Landscape Sdn Bhd also offers plum blossoms! A type of flower that has a strong and sweet fragrance and which has also symbolized many things. Most plum blossoms have five petals, and each of them is believed to represent these five: peace, happiness, smoothness, longevity, and luck. 
Location: PTD 90665, Jalan JB, Taman Johor Jaya, 81100 JB
Business Hours: 8:30am – 7:00pm
Contact: 07-355 8392
Facebook Page: https://www.facebook.com/soonbrotherslandscapesdnbhd/
Website: http://www.soonbrother.com/