It's that time of the year again! The Mid-Autumn Festival will be celebrated by everyone this coming Friday, September 13. The time of moon watching, lunar appreciation, family gatherings, and of course one thing that will never be forgotten — mooncakes! As the time approaches, let us first know the best stores to buy healthy and delicious mooncakes. This list will help you in preparing to have a delightful Mid-Autumn Festival celebration!
For over 60 years, Yong Sheng Gift Shop specializes in organizing and providing gift sets for various events such as weddings, festivals, and many more. They have different flavors of cookies, handmade pastries, chocolate biscuits, and mooncakes! Recently, the store had launched the limited edition gift box with an aesthetic design on its cover, then inside is full of exquisite mooncakes of different flavors! This is a perfect present for someone special this coming festival! 
Branches: https://www.facebook.com/johornow/posts/2327765390612138
Facebook: https://www.facebook.com/yongshenggiftshopmalaysia/
The mooncakes of Jmm Cookies JB & Sg looks very cute because of its color! Some of their mooncakes have pastel colors! Also, you rest assured that the food is healthy because they used the color of the ingredients used to dye the food. What makes their mooncakes more delicious is that they make it "double-stuffed!" Two different flavors in one! 
You can order at https://www.jmmcookies.com/ and use the code JN07 to get 5% discount.
Sale Location: AEON Bukit Indah Sutera Mall, City Square, KSL City Mall, AEON Kulai
Website: www.jmmcookies.com
3. Oversea Mooncake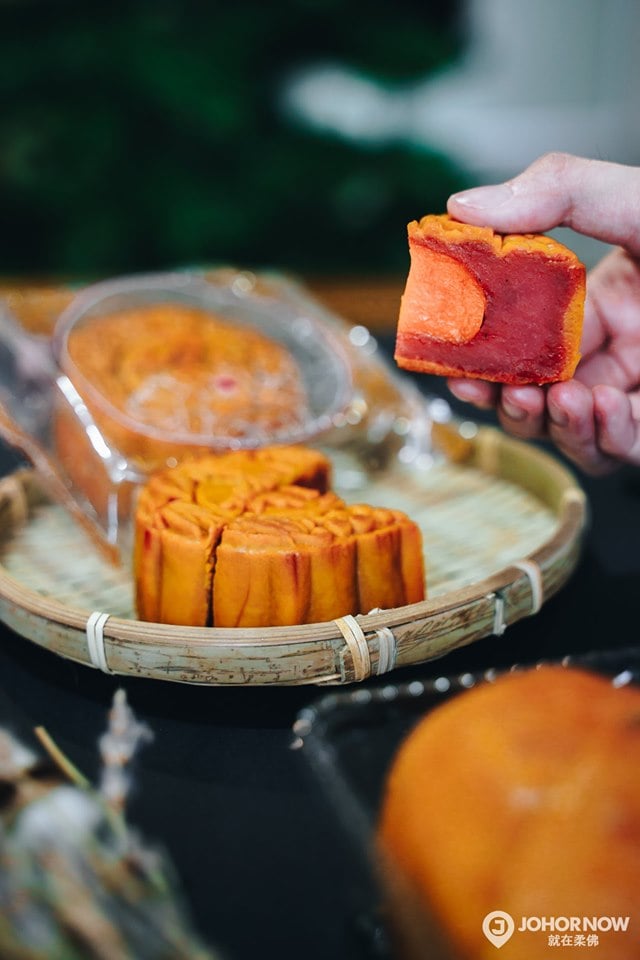 Taste delicious mooncakes when you buy at Oversea! They started in mooncake business in 1982, and until now, they serve handmade mooncakes in different flavors! Their mooncakes are not only delicious, but they also have a fragrant smell! 
Location: Johor Bahru City Square
Website: http://www.oversea.com.my/
Fall in love with different flavors of mooncakes from Hong Kong Bay! Especially their newly-launched 6 flavors of baked mooncakes, including Hong Kong-style salted egg lava flow and chocolate rock heart!
Johor Bahru Counters: City Square, KSL Mall, Sutera Mall, Aeon Kulai, Aeon Bukit Indah, Paradigm Mall, Senai Airport, NSK Pandan, Batu Pahat Mall, Giant Plentong
You can taste up to 16 different flavors of mooncakes in different designs for every gift set you buy at JDX TEA 九鼎香集团! They even have a rabbit-patterned mooncake, so cute! Pair up your mooncake with a refreshing tea!
Location: All Malaysian Branches
Contact: 012-3955603
Website: www.jdx.com.my
Aside from the usual vegetarian dishes, Life Ricette Twin Galaxy now also offers mooncakes for Mid-Autumn Festival! They have launched nine different flavors of mooncakes, including taro mooncake! Rest assured that your celebration of the festival will be healthy and fun!
Location: #01-09 Twin Galaxy Residence, Jalan Dato Abdullah Tahir, 80300 Johor Bahru
Business Hours:8:30am-10:00pm
Google Maps: https://goo.gl/maps/hmkDai1fPXpaL6DZ6
Sutera Address: No. 93 Jalan Sutera Tanhung 8/2, Taman Sutera Utama, 81300 Skudai
Recently, Moons cafe opened another branch in Southley and has also launched the Shanghai Mooncakes. Six pieces of mooncakes in 3 different flavors are inside every box. Have a fun celebration of Mid-Autumn festival with delicious mooncakes from Moons Cafe!
Location: Block G 01-05 Komersil Southkey Mozek Persiaran Southkey 1' Kota Southkey, 80150, Johor Bahru
Business Hours: 9:00am-9:30pm