Having a typical 8-hour job for five (5) days in a week does not only make your schedule hectic but it can also be stressful whereas going on a short trip can is a great way to pamper yourself. In case this is what you exactly need right at this moment, here are 8 recommended homestays with private swimming pools that you can stay in Johor Bahru!
Located near Desaru in Johor Bahru is a semi-detached luxury two-storey bed and breakfast with a unicorn theme! Besides the small corners where you can punch some IG-worthy photos, Unicorn Desaru Villa is well-equipped with everything you may need throughout your stay. There is security facilities, private parking, barbecue area and equipment, appliances, karaoke system, large outdoor trampoline, swimming pool, mahjong games, darts, golf practice carpets, board games, and etc.
Location: No. 5, Jalan Jati 11, Taman Desaru Utama Bandar Penawar, 82200 Johor Bahru, Johor
Contact: 016-7758895
Facebook: https://www.facebook.com/unicorndesaru/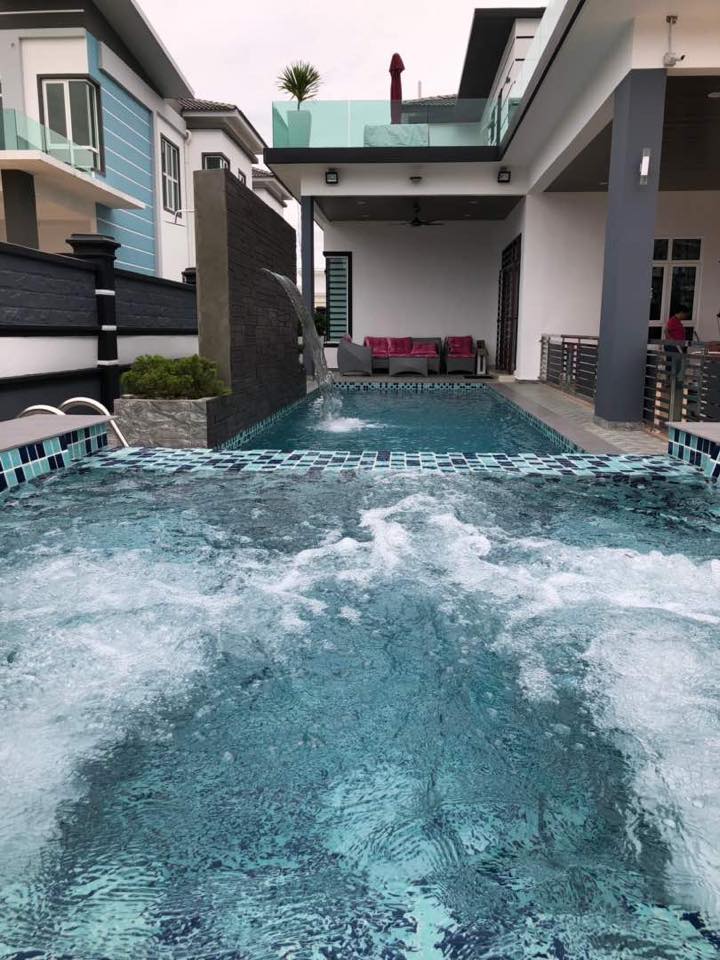 A cozy homestay suitable for 30 people. It consists of 5 rooms, 6 bathrooms, 6 private parking lots, BBQ area, karaoke facilities, rooftop seating area, a private pool, small garden, kitchen appliances, Jacuzzi, and more. Also, Family Homestay Segamat is located just a 15-minute drive to golf courses, shrimp farms, tennis courts, Starbucks, McDonald's, banks, theatre, etc.
Location: No. 14, 10/5, Taman Yayasan, Segamat
Contact: 01155042606
Facebook: https://www.facebook.com/Family-Homestay-Segamat-377773999315979/
About three minutes' drive from the airport is a holiday home where you can take a break from your busy work and lifestyle. It features two floors with living room, kitchen, dining room, balcony, 5 large rooms, and an ultra-premium private pool! There are also leisure facilities and equipment to keep your boredom away, such as karaoke, mahjong, BBQ, hot pot utensils, and whatnot.
Location: Jalan Jumbo, Senai, Johor
Contact: 012-786 8800
Facebook: https://www.facebook.com/HomestayVillaLeJollax/
bg

A private independent villa with a Balinese-inspired design. With its foreign-like vibe, Tanjung Villa makes a perfect venue for a birthday party, wedding buffet, family gathering, and so on… It also has a soothing swimming pool where you can plunge into, which is surrounded by refreshing flowering plants and trees.
Location: No. 222-5, Jalan Meriam, 84000 Muar, Johor
Contact: 012-679 4789
Facebook: https://www.facebook.com/tanjungvilla.tanjungemasvilla/
This homestay in Muar brags about a clean and spacious environment with a total of 7 rooms, karaoke rooms, mahjong games, and bicycle. Another plus factor in Indah Villa Muar is the elegant private pool where you can enjoy a relaxing moment.
Location: No. 1, Jalan Indah 12/1B, Taman Indah, 84000 Muar, Johor
Contact: 017-889 5899
Facebook: https://www.facebook.com/Muar-Indah-Villa-286415592207514/
Whether you're going on a family or corporate trip, Casa Bianca Villa Kluang is definitely a perfect option for it has a wide space that can cater to a large number of guests. Aside from cozy rooms inside the three-storey holiday home, there are also tables and chairs set up around the large swimming pool where you can chill with your folks.
Location: 2, Jalan Gunung Lambak 17, Taman Gunung Lambak, 86000 Kluang, Johor
Contact: 07-7785777
Facebook: https://www.facebook.com/casabiancakluang/
Soon as you enter this holiday home in Kluang, the first thing that will surely catch your attention is the large pool which seems like inviting you to take a dip on the soothing water.
Location: 5, Jalan Berkat, 86000 Kluang Johor
Contact: 012-723 7388
Facebook: https://www.facebook.com/kluangswimmingpoolhomestay/
For a one-of-a-kind staycation experience, Kluang Container Swimming Pool Homestay will give it to you! As the name goes, it is a container-designed homestay perfect for family gatherings, corporate events, and the like.
Location: Jalan Dua, Taman Bersatu, 86000 Kluang, Johor
Contact: 012-723 7388
Facebook: https://www.facebook.com/kluangcontainerhotel/
Click: 7 Superb Hotels You Can Comfortably Stay When in Kulai
Click: 18 Homestays Perfect for Vacations in Kukup Pontian Johor!