With the everyday stress that we get from work and life, in general, it is normal to feel like shutting down. In times like this, going to somewhere that is far from the bustling noise of the city seems to be the perfect thing to do.
If you currently feel the same, perfect because you seem to have found the right page as we are about to list down some of the spots where you can enjoy the astounding eco-tourism of Malaysia!
1. Templer Park Rainforest Retreat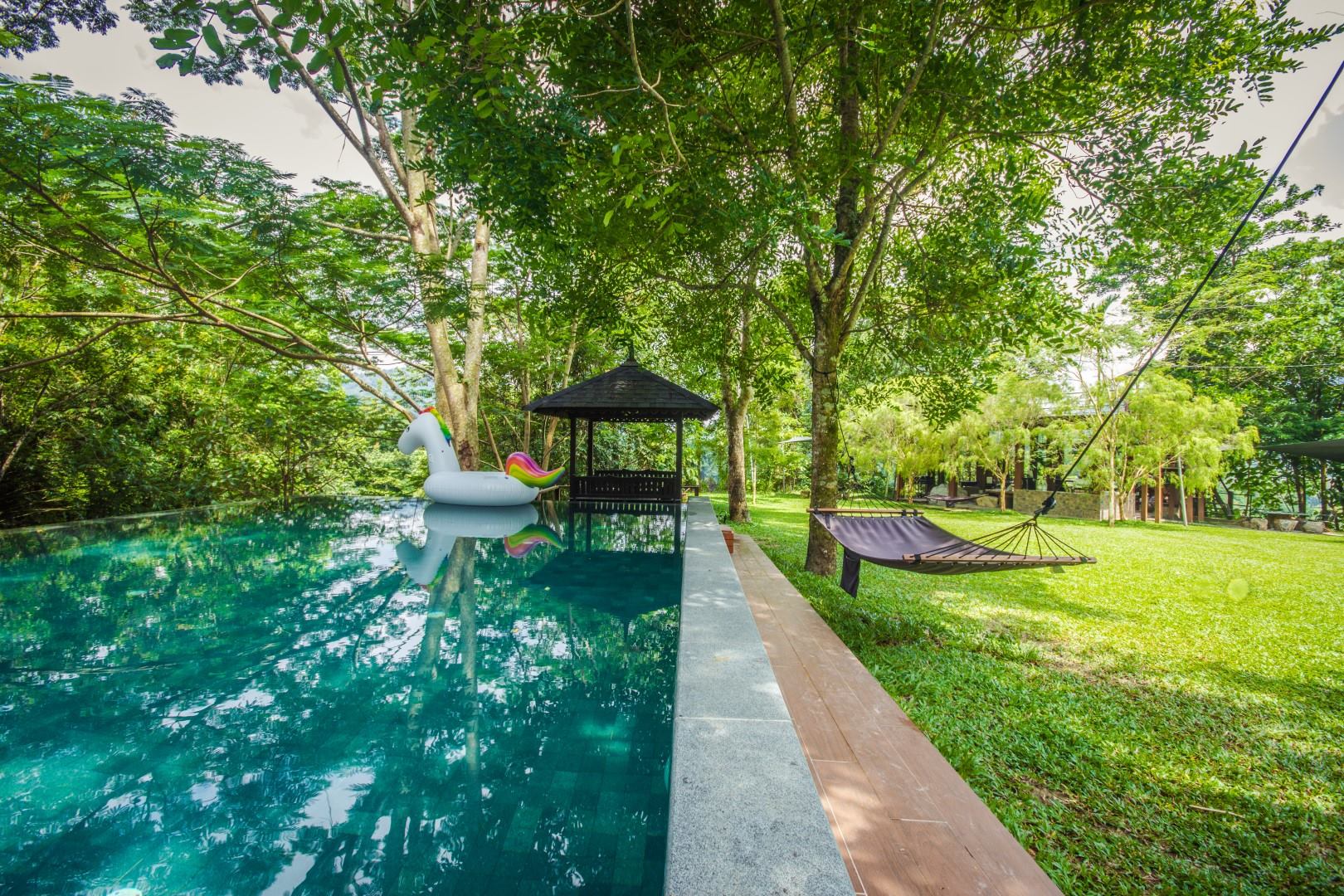 Templer Park Rainforest Retreat is a private villa located Rawang, which is surrounded by a 360-degree view of the Kanching Rainforest Reserve. The villa houses golf courses, private pools, jet spas, and paddling pools. There are also kitchen supplies, BBQ utensils, coal, and etc. for guests to use.
Location: No. 22, Jalan 3/2, Temper Heights, Templer Park, 48000 Rawang, Selangor
Hours: 24 Hours
Contact: 016-203 8562
Facebook: Templer Park Rainforest Retreat
2. Eagle Ranch Resort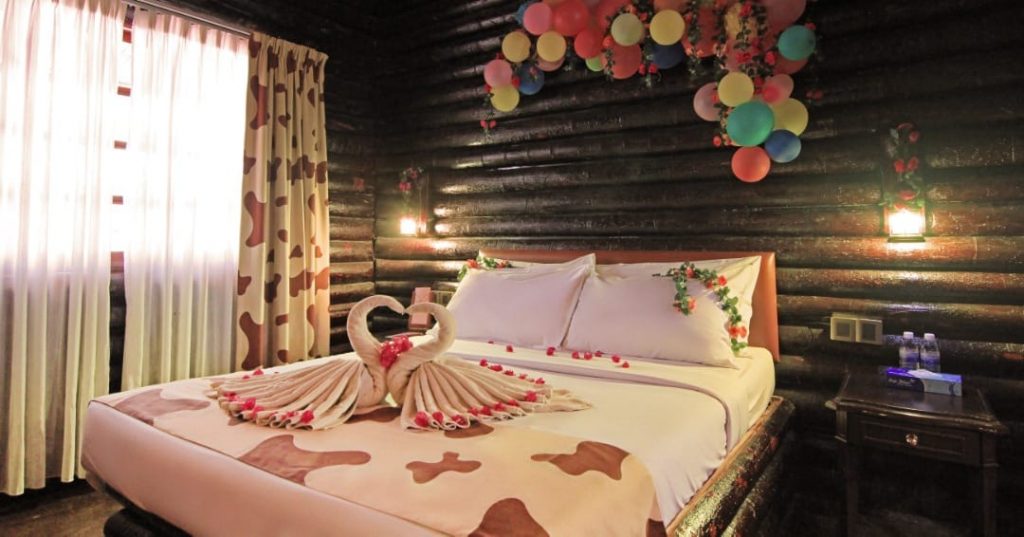 Located in Port Dickson is a holiday home with different designs: farmhouses, kampung house, log cowboy cabins, And American Indian-style conical tents. Aside from relaxing in your holiday home, there are also a lot of fun activities to enjoy including horse riding, shooting, swimming, mini-sports, paintball shooting range, and sea drifting. It is also worth mentioning that there are bathtub and a professional masseur to knead your sore body.
Location: Lot 544, Jalan Pantai, Batu 14, 71250 Port Dickson, Negeri Sembilan, Malaysia
Hours: 24 Hours
Contact: 06-6610 495
Facebook: Eagle Ranch Resort
3. Kota Rainforest Resort
A beautiful holiday home set in the tropical forest of Kota Tinggi, hence the name. It offers private chalets and bicycle rentals, plus activities such as rowing, splashing in the waterfall, and exploring the mountains. If you're not a fan of the mentioned activities, you can choose to take a dip in the swimming pool or sing your lungs out as they also provide karaoke equipment.
Location: Lot 4483, Jalan Lombong, Batu 8, PO Box 125, Kota Tinggi, Johor Bahru, 81900 Johor
Hours: 8:00am – 6:00pm
Contact: 019-755 0231
Facebook: Kota Rainforest Resort
4. UK Farm Argo Resort
If you're visiting Kluang, this leisure farm is a must-see as it gives you first-hand experience on many things, including the process of milking goats, visiting organic vegetable gardens, watching animal shows, riding a horse-drawn carriage, fishing in the ponds, refining of goat milk in restaurants and more. You can also camp on the ground while having a barbecue or enjoying fresh goat's milk.
Location: Plot 8, Projek Pertanian Modem Kluang, KM13, Jalan Batu Pahat, 86000 Kluang, Johor
Hours: 9:00am – 6:00pm; Closed on Sundays
Contact: 07-759 7555
Facebook: UK Farm Agro Resort
5. The Shorea
This holiday home in Seremban is a natural tropical rainforest surrounded by woods. With the truly magnificent landscape it possessed, The Shorea is sure to give the peace of mind you've been craving for. 
Location: Kampung Kolam Air, Mukim Pantai, Jalan Jelebu, 71700 Negeri Sembilan, Malaysia
Hours: 24 Hours
Contact: 017-300 5810
Facebook: The Shorea
6. The Pines Resort
(embed)
(embed)
Although it's not big here, the attractions and activities offered at The Pines Resort in Fraser Hill is enough to relax you completely. The accommodation is built on a hill, thus allowing you have a view of the naturally beautiful mountains, which is covered by fog, especially in the morning.
Location: Jalan Peach Batu, 49000 Fraser's Hill, Pahang Darul Makmur, Malaysia
Hours: 24 Hours
Contact: 09-3622 122
Official Website: The Pines Resort
7. The Dusun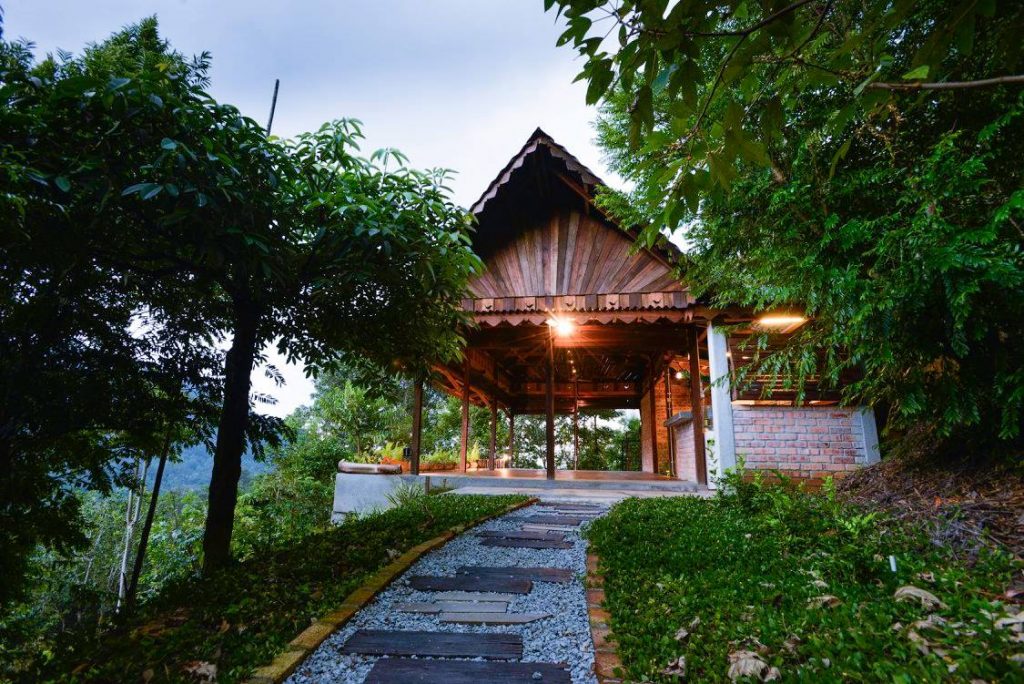 This holiday cottage in Pahang features a unique accommodation with a spacious balcony where guests can get to enjoy the breathtaking scenery. The Dusun is perfect for those who are tired of looking at the high-rise buildings in the city.
Location: Lot 1460, Jalan Tras, Mukim Tras, 27600 Raub, Pahang Darul Makmur
Hours: 24 Hours
Contact: 016-980 3222
Facebook: The Dusun
8. Sailor's Rest
Have a one-of-a-kind experience as this holiday home in Bentong allows you to sleep in a boathouse. But if you're suffering from seasickness, there are other room types to choose from like wooden houses, small villas, luxury camping styles, and more.
Location: Lot 8592, Lorong Dato Panglima, Kg Sg Lurau, Janda Baik, 28750 Bentong, Pahang, Malaysia
Hours: 24 Hours
Contact: 012-360 9227
Official Website: Sailor's Rest
9. Farmer Hut Retreat
A country-style B&B surrounded by vegetables and strawberries. Farmer Hut Retreat allows you to enjoy the of the farm and the mountains and the fresh air from the attic room.
Location: No. 23, Jalan Country Lodge, Brinchang 39100, Pahang, Malaysia
Contact: 012-524 0091
Facebook: Farmer Hut Retreat
Click: 7 Gorgeous Places For Your Next Trip in Malacca!
Click: Exploring the Beauty of Pontian: A Day Trip Itinerary
Click: Cherating: Where You Can Spice Up Your Dream Vacation