Old but definitely not forgotten. Johor Bahru takes pride to one of the most sought-after landmarks in the world found on this land, no other than Arulmigu Sri Rajakaliamman Glass Temple. It is such an ideal place to reflect and reconnect with your spiritual senses or just to appreciate it's breathtaking beauty. If you haven't been at this beautiful temple, here's some of the facts that will make you astounded!
 1. Arulmigu Sri Rajakaliamman Glass Temple
Arulmigu Sri Rajakaliamman Glass Temple first started as a small shelter in 1922. As years pass, this humble temple grew steadily and started to have its true expansion in 1991 after chief priest Sri Sinnathamby Sivasamy inherited the temple's administration from his father. In just a span of five years, the temple was expanded and completely rebuilt, despite the challenges that it faced through. It was in 1996 when the temple was reopened to the public.
2. The world's first glass Hindu temple
Guru Sri Sinnathamby Sivasamy got the idea of covering the temple in glass back when he was traveling to Bangkok in a Thai rickshaw. He was inspired by the diamond-like beam of light which is eventually coming from a glass artwork situated at the entrance of the temple. It was between 2008 and 2009 when the temple was almost entirely covered with colorful pieces of glass, inside and out. From that time on until now Arulmigu Sri Rajakaliamman become a truly unique Hindu sanctuary.
3. King Kong Bodhi
It is the first in Malaysia to be designed with walls fully covered with 300,000 Rudraksha beads that came from Nepal.
4. Religious halls reflects the spirit of "One Malaysia"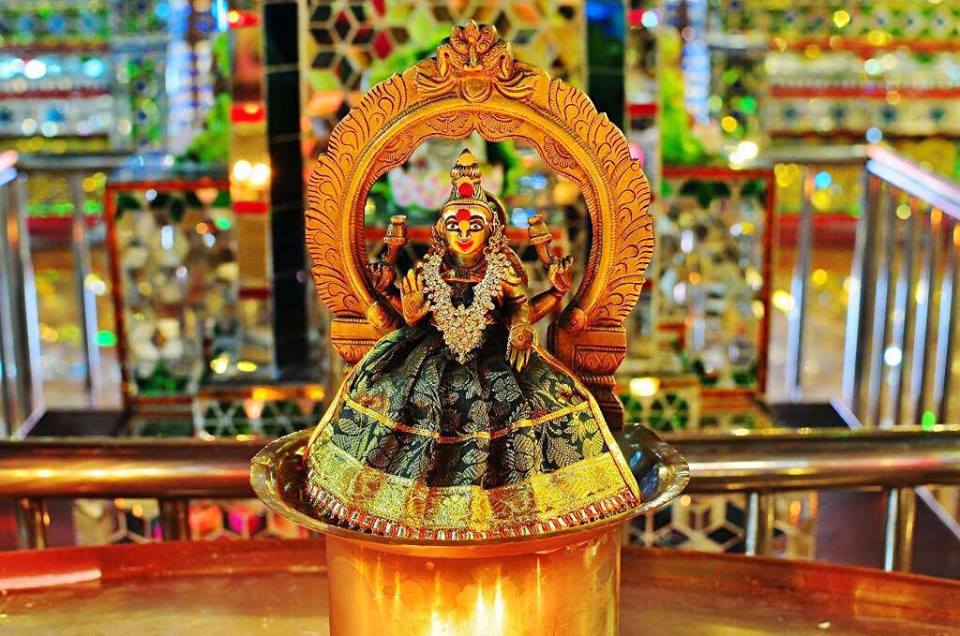 Aside from Hindu gods, there are also Islam, Buddhism and eight other religious figures placed inside the glass temple, whom people can worship. The design truly promotes and embodies our "One Malaysia" spirit!
5. Listed as one of the world's most sought-after sights
The world's leading international travel guide, Lonely Planet, released their new book entitled "Secret Marvels of the World", it's Malaysia's pride to get Johor Bahru's Glass Temple into it!
Arulmigu Sri Rajakaliamman Hindu Glass Temple
Location: No. 22, Lorong 1, Jalan Tebrau, Johor Bahru, Malaysia
Hours: Monday – Friday 7:00AM – 12PM / 6PM – 10PM ; Weekend & Public holidays 7AM – 10PM
Visiting Time: 1PM – 5PM
Entry Ticket: RM10