Working for hours everyday could be really tiring. And sometimes you just wanna escape from the noise in the city for a while. We feel you, bud! So here's an exciting tour to Batu Pahat Segenting, a well-known fishing village, perfect for people like you who needs a real retreat from the busy city life.
Here are the attractions that you will enjoy at Batu Pahat Segenting:
Lovers' Bridge
Image credit: loverbridge.com.my
We suggest that when you visit this pretty village, bring your loved one or your friends to fully enjoy the romantic backdrop of the "Lovers' Bridge". The bridge was originally a wooden structure, then later converted into a lime bridge, but still retains the wooden deck.
The bridge was originally a fishing pier where fishermen catch varieties of seafood. But because of its beautiful scenery, it became a date-place for lovers. You will absolutely fall in love with the romantic view.
Image credit: loverbridge.com.my
And don't forget to watch the very charming sunset and capture the Instagram-worthy view at the Lovers' Bridge.
Segenting Temple
This temple in Segenting is well-known for fish-touching. There arapaima fishes in the ponds of the temple, and people believed that touching the arapaima fishes would bring good luck.
People who visit the place never forget to touch the fishes because it is also believed that these arapaima fishes make the wishes come true. What a great thing to try! There's no harm in trying, anyway.
Delightful Food at Batu Pahat
Lover Bridge Resort's Sea Front Thai Food Restaurant
If you are a Thai food lover, you should try the food at Lover Bridge Resort's Thai restaurant and savor their delicious and authentic Thai food.
Location: 95, TL SG43, Kg Segenting Minyak Beku, Batu Pahat, Johor
Contact No.: 07-428 6346
Ship Village Seafood Restaurant
And who can resist seafoods? Come to Ship Village and indulge yourself with their savory seafood dishes that will totally satisfy your cravings!
Address: 68, Kampung Segenting, Jalan Minyak Beku, 83000 Batu Pahat, Johor.
Contact No.: +6 017 7168296
Accommodations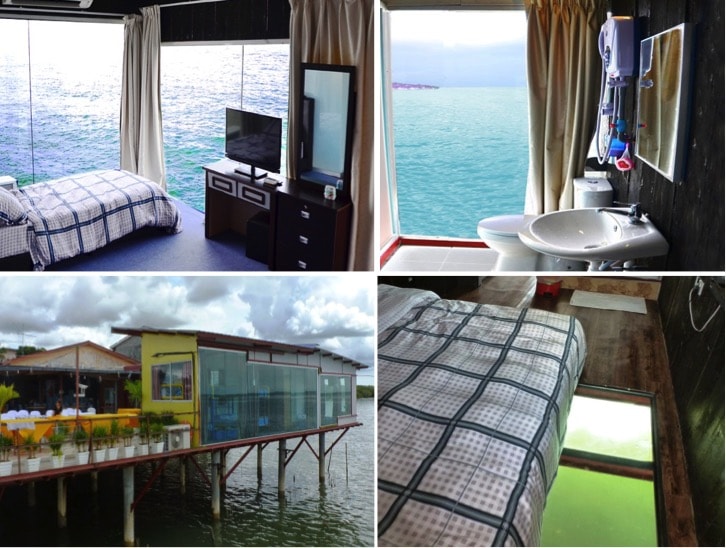 Image credit: loverbridge.com.my
Of course when you visit Batu Pahat, you'll be needing a beautiful place to stay at. Indulge yourself with Lover Bridge Resort's wonderful scenery and comfortable rooms.
Lover Bridge Resort, which is located at the Strait of Malacca, is a great resort with great value and amazing assets. Each room are comfortably furnished and perfectly blending modern design with tropical elements.
Aside from a flat-screen TV, air conditioner, and water heater, the resort also provides free wifi. So you can enjoy taking pictures and post them on Instagram! You can also ride a bicycle and explore the fishing village. And enjoy watching the sunset and fireworks display.
Location: 95, TL SG 43, Kg Segenting Minyak Beku, Batu Pahat, Johor.
Contact No.: 07-4286346
We also recommend you to visit the popular Old Street Commercial Centre and enjoy a garden walk. The place has a unique and sophisticated exterior that was specially designed to be the future landmark of Batu Pahat. A sky walk was designed between two shopping blocks for easy access to provide customers with excellent shopping experience. Old Street Commercial Centre provides entertainment, fitness centers and shopping outlets.
Location: 3rd floor rooftop of the old folks, Jalan Rotan Utama, Taman Sri Jaya , Batu Pahat
Operating hours: 6pm – 12:30am
Contact No.: +6012 7111083