Most of us work 8 hours a day in the office which makes our company our second home next to our family. We can't deny, work is tiring and makes us exhausted. It consumes most of our energy and time but it is our source of living. That's why it is important for the workers and employees also to take a break, have fun, and play through Team Building activities.
Team Building activities help employees know each other more, strengthen their friendship, as well as inspire and bring out creativity from each of them. To make team building activities more fun and rewarding, you can check out these top activities you can try with your colleagues:
1.F1 Challenge

We all have a heart of racers. In this game called F1 Challenge, each team can use a carton and paint to create a unique racing car. This game aims to test the communication skills of the team as well as their logic, innovation, and problem solving skills.
2.Rocket Launch

In this game, team members can make use of hand tools and other materials combined with scientific principles to yield special "rocket" launchers. They should make sure that the design of the rocket has to be integrated into the company's brand, concept background, and other important facts about the company which will make the activity even more challenging.
3.The OlympiX Game

Who says that physical education classes are only limited to children in primary and secondary schools? Companies should give their workers time to take a breath of fresh air outdoors, and have fun and play! Tug-of-war, relay games, skipping rope are the best games for outdoors that will definitely test each team's unity and coordination.
4.Talent Night

It is about time to showcase what you've got! Combined with Drum Beats, Puppet Master, Funky Theater and other activities, Talent Night lets the members play drums, design puppets, and take into role-playing. These allow them to exchange ideas and strengthen their team awareness to be able to work together as they perform as a team and practice teamwork.
Now that you know about these four TEAM BUILDING activities, are you ecstatic to move and call your workmates right away? Of course, you can experience all of them together and your training will never have dull moments, that's for sure! These activities are designed to allow you to learn while you play and have fun! You also get to share ideas with your colleagues while bringing out the best in each other.Need help in achieving a fun,meaningful, and rewarding training? We have the solution!
Run Solution: HRDF Registered training provider in Malaysia, Learning While Playing and Promoting Team Spirit
HRDF Registered training provider Run Solution in Malaysia provides professional TEAM BUILDING, and has undertaken outdoor and indoor training. It can even accommodate TEAM BUILDING for the most suitable company for customers, focusing on learning and playing, and letting every participating member have fun!
After the training, Run Solution Professional Trainer will communicate with you in the interactive session,leading everyone to reflect on the experience, comprehend from their emotions, and finally continue to work side by side in understanding the needs of the company and its members. Run Solution breaks the traditional form of training, through a synergistic and interesting training experience, interactive topic discussion and sharing, allowing you and your colleagues seriously feel the inner emotional changes and alteration, enhance teamwork awareness,improve team bonding and complement each other to achieve the team's maximum work efficiency!
Break the old rule: "Training does not cost money"! A brief explanation for you to understand what HRDF is:
HRDF (Human Resource Development Fund) refers to the Human Resources Development Fund. Eligible employers are required to pay monthly and can be used to train employees to improve their work ability and efficiency. However, most employers do not know the existence of this fund, so they tend to ignore the employee's training course!
In fact, the training content isn't boring at all. Through the TEAM BUILDING, provided by Run Solution,every training is full of fun and knowledge! Not to mention that Run Solution has obtained HRDF certification. Once the employer chooses Run Solution and plans training,HRDF Claimable training!This is definitely good news for employers, one stone hitting two birds!What are you waiting for? Organize a team building with your colleagues immediately and tell this amazing offer to your boss!
Diversified TEAM BUILDING training, enhances teamwork and lifts team spirit!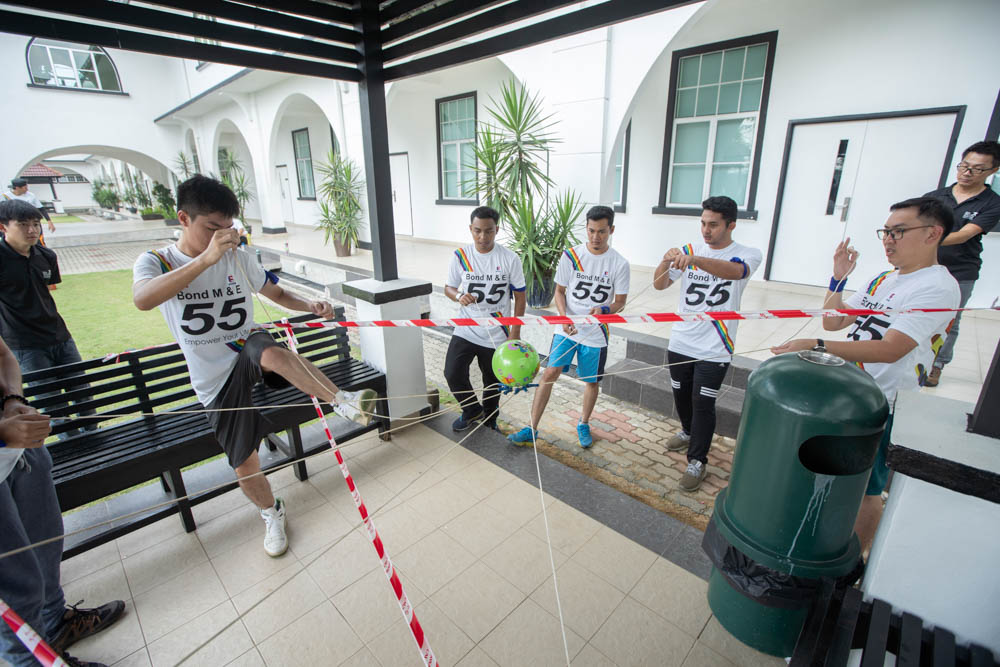 The TEAM BUILDING provided by Run Solution is diverse and each of its activities is fun-filled and loaded with exciting surprises! Whether it's Amazing Race, X Battle or Colour Rhythm, the pattern is not repeatable and 100% exhilarating! The key point is that Run Solution can also design your own TEAM BUILDING according to the needs of the company, and even host the annual dinner, so that you and your colleagues will be able to experience a one-of-a-kind team building that you deserve. So what more can you ask for? Tap all of your colleagues in the company to participate in a gratifying, thrilling TEAM BUILDING!
Must not miss! Use the Promo Voucher RM500 rebate awaits you!
Just sign up and use Promo Voucher [JOHORNOW] to get a RM500 rebate!
Registration URL: https://www.teambuildingjohor.com/inquirye
Run Solution
Website: https://www.teambuildingjohor.com/
Facebook: https://www.facebook.com/Run99/
Address: 67A, Jln Impian Emas 5/1, Tmn Impian Emas, 81300 Skudai, Johor, Malaysia.
Phone/WhatsApp: +6010-7607087
Email: info@runsolution.my