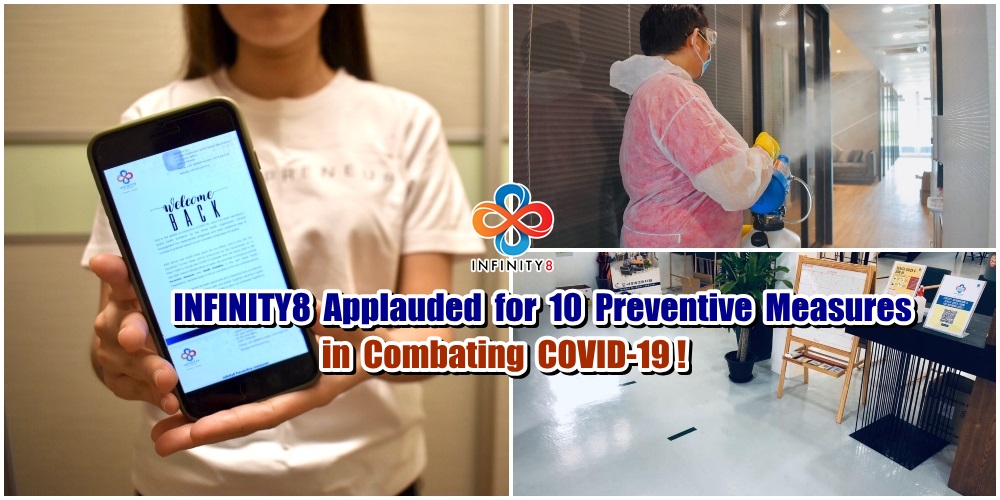 HOW THIS COWORKING SPACE IN JOHOR BAHRU EARNS PRAISES IN COMBATING COVID-19 WHEN WORK RESUMES 
Safety, hygiene, fear of getting infected top the list of concerns Malaysians are facing upon resuming of work. 
Infinity8 this coworking space in Johor Bahru takes one step further with the following preventive measures to combat COVID-19 and earns praise from their coworkers as well as the public. 
1. START SENDING MEMOS TO THE COWORKERS AS EARLY AS APRIL AND EDUCATING THE COMMUNITY
As early as April, they have started sending memos to the coworkers to remind them about the do's and don'ts when work is resumed. Their memo are made according to the World Health Organization's guidelines on getting the workplace ready.
2. THOROUGH DISINFECTION DONE AT EVERY SINGLE CORNER OF THE PREMISE
They make sure proper disinfection is done throughout the premise by using HIGH-LEVEL DISINFECTANT which is highly effective in eliminating viruses.
3. SOCIAL DISTANCING GUIDELINES ARE STRICTLY OBSERVED
Look at how warm and cheerful this social distancing guidelines are being observed with some human touch- lovely soft toys are being placed to occupy the seats that shouldn't be taken. 
4. TEMPERATURE OF ALL COWORKERS ARE CHECKED EVERY TWO HOURS 
All temperatures of coworkers working on the premise will be checked every two hours. This is to make sure that when the abnormal temperature is observed, the relevant coworkers will be asked to consult a doctor immediately. 
5. CLEAN AND DISINFECT THE OFFICE 3 TIMES PER DAY 
This coworking space took the extra effort to clean and disinfect all high-touch surfaces 3 times per day. 
6. PARCEL COLLECTION DISINFECTANT 
A parcel collection box is being set up to collect all incoming parcels. These parcels will then be disinfected and before delivery to all coworkers. 
7. MEETING ROOM GUIDELINES
All coworkers will be asked to arrange virtual meetings as much as possible and there will be a capped amount of incoming visitors. 
8. COWORKERS ARE TO WEAR MASK ALL THE TIME 
All coworkers are to wear a mask all the time and visitors who are not wearing will not be allowed to enter the building. 
9. AVOID SHARING CUTLERIES AND EVERYONE TO BRING ITS OWN CUTLERIES
Every coworker to use its own cutlery and avoid sharing of cutleries. 
10. REGISTRATION OF ALL GUESTS AND VISITORS
All guests and visitors will be asked to register their information with us so we can trace every person entering into the building in case of an emergency.
We applaud what they have done and hope everyone stays safe and follow the SOP when resumed work. 
Join the largest coworking space in Johor Bahru and stay worries-free throughout this crisis.
📱 WHATSAPP: https://bit.ly/2SzcRvb 
☎ HOTLINE: +6018 220 4138
Website: https://infinity8.com.my/