Coffee. Most of us are addicted to it. We just can't help but cherish its aroma and great taste. Coffee can be a stress reliever. During those times we need to finish loads of work, coffee has been our greatest companion. Don't you think the coffee manufacturers deserve a "thank you"? Without them, what can help us stay awake at night just to finish those papers, or how can we wash our stress away? The Kluang Coffee Powder Factory is one of the great coffee manufacturers in Johor. Providing us great coffee since 1966, it truly deserves a big thank you!
The Half a Century Old Coffee Powder Factory
Kluang Coffee Powder Factory was founded in 1966 at Jalan Mersing. But in 2003 it was relocated to the current site at Jalan Besar as the management decided to expand and automate its business operation to meet its increasing demand. They manufacture one of the most popular coffee brands in Malaysia, the Television (or Televisyen) coffee.
Television Brand Coffee
You might be wondering why it is called "Television". The origin of its name is very interesting. Back in 1960s, television sets are expensive. And owning one became a dream for every household in Malaysia. Television brings us latest news and entertainment that's why it became a choice for Mr Goh Tong Tor, founder of Kluang Coffee Powder Factory to use television as its branding. His aim is to produce high quality coffee that can be seen in every household and bring the families closer together while they enjoy a good cup of coffee. Television coffee even got the Sultan Iskandar's approval and has placed orders with the factory every month and have it delivered to the palace. That's why the Television coffee is also known as "Sultan Coffee".
Coffee Production Process
Providing us excellent coffee since 1966, many are probably wondering how is this great coffee made. Achieving a perfect taste, producing coffee powder is not simple. Here's how it is being made:
Mix three kinds of beans together (Robusta, Liberica, Arabica) then bake.

Then put it in a large pan, add the right amount of sugar (it is important to master putting the right amount of sugar to achieve a perfect taste).

The coffee will then be put on a large iron plate, and roasted. It needs to be stirred, allowing the beans to cool, so that they will not stick due to high temperature.

The coffee beans will then be put again on the machine.

And finally, they will grind the beans until they are powdered, then put them in a package.
You don't need to go out to taste Television Coffee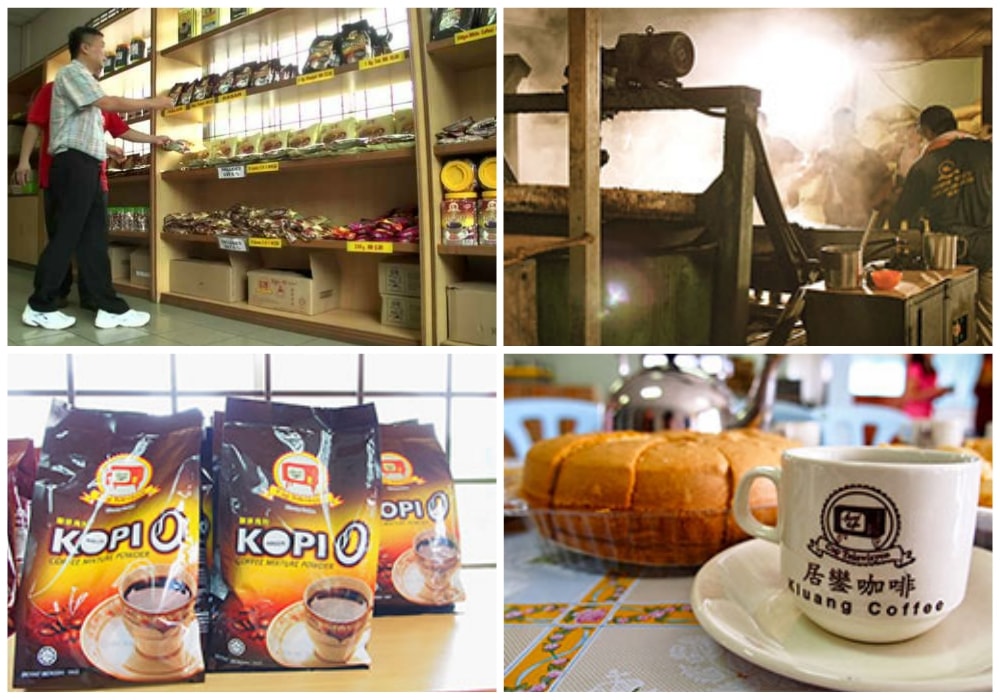 Sometimes we just feel lazy to go out to buy food even though we our stomach is rumbling. Don't worry if you want to sip a great coffee but not in the mood to go out. You can buy coffee online at http://kluangcoffee.com.my/. So enjoy a good cup of coffee while watching TV!
And hey, you can visit Kluang Coffee Powder Factory for FREE!
A lot of tourists and students come here to visit to learn and gain knowledge about coffee production. If you want to visit, just settle an appointment or visit their Facebook page for more information.
[wp-svg-icons icon="home" wrap="i"] 76, Jalan Besar, 86000 Kluang
[wp-svg-icons icon="clock" wrap="i"] Mon-Fri: 8:00 am – 5:00 pm / Sat: 8:00 am – 2:00 pm
[wp-svg-icons icon="phone" wrap="i"] +60 7-773 1943
[wp-svg-icons icon="globe" wrap="i"] http://www.kluangcoffee.com.my
[wp-svg-icons icon="thumbs-up" wrap="i"] https://www.facebook.com/kluangcoffee1966/
Image Credit: Kluang Coffee Cap Televisyen / Facebook page