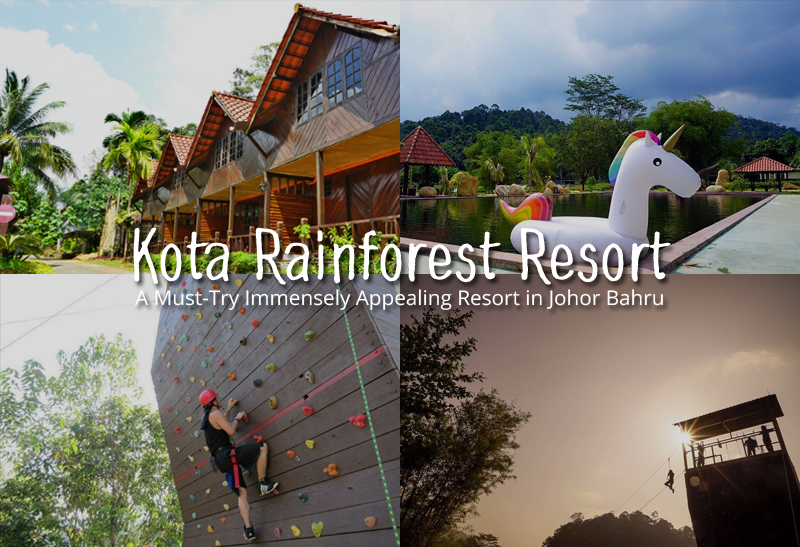 Have you been in a long hard week and want to relax but too tired of going to typical beaches and resorts? Keep on reading to know more about this immensely appealing resort in Johor Bahru – the Kota Rainforest Resort.
It will let you feel the glamour of nature. If you're sick of stressed and unhealthy surroundings, this is the perfect place for you. You can breathe fresh air and feel the embrace of Mother Nature by listening to the bird's symphony, having close contact with animals, and swim in the fascinating pool and waterfalls.
Invite your family and friends to have fun with the resort's marvelous recreational amenities including swimming pools, natural water pool, table tennis room, pool tables, games & mahjong room, kid's corner, beach volleyball, karaoke and many more. Mountain climbing, Fireflies river cruise, hiking, scenic nature walk and cycling along the mountains are a short distance from the Resort. Fishing in local ponds and streams is excellent. During the good weather, a beautiful Waterfall is just 5 minutes drive from the Resort.
You should also try these exciting outdoor activities such as  the low element activities: Indiana Jones, Rafting, River Crossing, TP Shaffer, Giant Finger, Whale Watch, Rebirth, Nitro Crossing, Trust Fall, Rafting, River Crossing, Confident Jump etc and high element activities, for example, Rock Climbing, Abseiling, and High Rope Course.
The popular activities: the MIZU challenge, SUBARASHII challenge that emphasis on teamwork. Mountain and River Trekking, Herbal Botanic Trail, Archery is another popular activity you should not miss. Certification and training such as Basic Survival Camp Craft training, Kayaking, and Abseiling.
Of course food cannot be removed on the list! Kota Rainforest Resort serves excellent menu for breakfast, lunch and dinner, as well as the excellent selections of Asian and Chinese cuisine. Local breakfasts and buffet meals may be arranged during your workshop or activities. Barbecues beside the river can also be arranged in the evening time.
And since it's only an hour drive from causeway and and 13 km away from Kota Tinggi town, Kota Rainforest Resort is easily and quickly accessible. So you have no way to miss the fun-filled adventures that you will experience at Kota Rainforest Resort!
Location: Lot 4483, Jalan Lombong, Batu 8.PO BOX 125, Kota Tinggi, 81900 Johor Bahru, Johor, Malaysia
Contact: 07-889 0030 / 07-889 0032