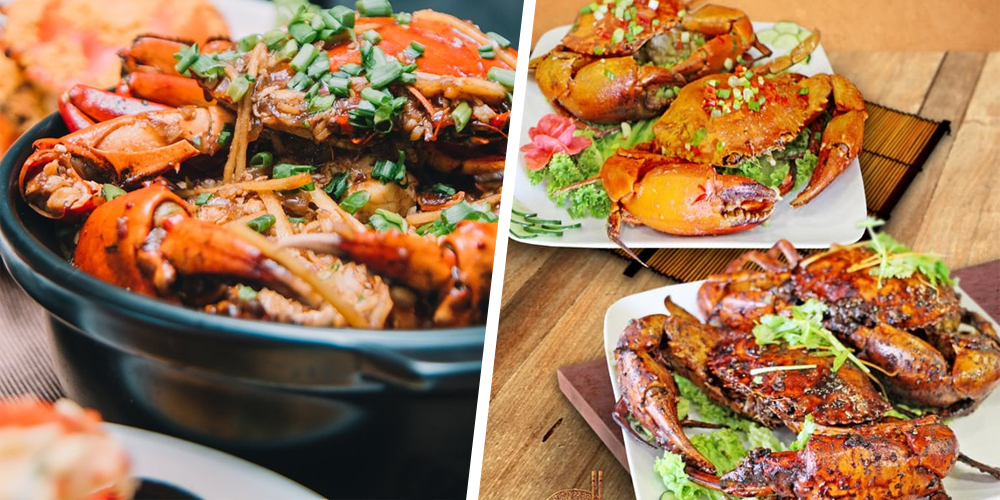 Crab, it is not only delicious, but also rich in protein! It can be said that it is a kind of seafood most people love to indulge into! We are sure that you are very familiar with this seafood and take note, it comes in various forms such as crab paste, crab meat, rab shell, and even crab oil!  Let us introduce you to several well-known crab restaurants in Johor Bahru, guaranteed to make you crave and salivate!
1. Erge Crab House
Crab lovers scream! The first two-storey independent bungalow seafood restaurant in Johor Bahru opened "The Second Brother Crab House" ~ The owner make sure that they only select imported fresh crabs daily and offers 12 kinds of new crab cooking methods, such as: salted eggs, peppers, black pepper, sands, salt Baked and creamy, etc., after cooking, you will notice that every dish is aromatic, showing each unique crab dish, which makes the dishes more appetizing!
Address: No.3 Jalan Cokmar Taman Sri Terbau, Johor Bahru
Opening hours: 11am- 3pm; 5pm – 2am (two breaks on Tuesday)
Google Maps: https://goo.gl/maps/uqjRZCrNBkx7coAg9  
2. Repulse Bay Haifan Village Senibong Bay Seafood
Friends who love to eat crabs must be familiar with the newly opened "Repulse Bay Haifan Village" in the town of Million. It is located in Haifan Village and known to be the cheapest lobster crab seafood specialty store! The live seafoods sold in this restaurant come from Siwan Island every day! Plus, you can also choose to sit in the outdoor alfresco dining area and enjoy the sea view while enjoying the food. It is a great enjoyment of life!
Address: Lot 120714, Kampung Senibong.Johor Bahru
Time : 12 pm – 1 am
Time: 12 pm – 1 am
3. Delicious 8 Seafood Restaurant No. 8 Seafood
Want to eat crabs? Come to "Delicious 8 Seafood Restaurant" right! We especially recommended the salted crab and fried steamed buns served by their family. They use the fat king crab and the thick salted egg juice. It is their best-seller so make sure not to miss ordering it!
Address: Senibong Cove Marina, Persiaran Senibong, Teluk Senibong, Johor Bahru
Opening hours: 2pm – 12am
4. Fatty Crab Seafood Restaurant
The "Fat Fat Crab Paella" restaurant specializes in a variety of delicious crab dishes, and has won many fans' hearts and even bagged an award for the best crab restaurant. The exclusive signature crab dish, "Golden Cream Crab", has a rich flavor and super delicious taste. It is definitely the ultimate flavourful crab dish that you can't find in other stores.Moreover, their salty egg-flavored "salty wet crab" is highly-recommended too!
Main branch:
Address: 42, Jln Austin Height 8/2, Mount Austin, J.B.
Opening hours: 12pm-2.30pm; 5.30pm-11pm (closed on Monday)
Secondary branch:
Address: Lot 1 Ground Floor, Plaza Sentosa, Taman Sentosa, J.B.
Business hours: 11.30am-1.30pm; 5.30pm-12am
5. Zhenweige Seafood
If you are just tired of steamed crabs, would you like to try something new? Then come to "Zhenweige Seafood" to taste their crab feast they have dedicated to customers! Whether it is tender meat or golden crab yellow, it makes people think about drooling!
Address No. 23 & 25 Jalan Setia 10/10 Taman Setia Indah, Johor Bahru
Opening hours: 2:30 pm – 12 am
6. Ba Wang Crab Seafood Restaurant S/B – King Crab Seafood Restaurant
This seafood restaurant's crabs come in different cooking methods but the most famous is their spicy black pepper. Their chili crab is as well favored by customers and keep them coming back! No matter which dish you choose, it is bound to conquer your taste buds! The crab meat used by them is sweet and plump, and it is super satisfying!!!
Address: 27, 29, 33, Jalan Sutera, Taman Sentosa, Johor Bahru
Opening hours: 4:30 pm – 4 am
7. Xilinmen Seafood Restaurant Restaurant HAPPY CRAB
Don't miss it when you pass by this restaurant! 3 fat meat crabs are only sold for RM59.90 in here! Don't doubt its taste because it is really delicious!!! Hurry up with your family and friends to go to Mount Austin's "Xi Lin Men Seafood Restaurant" for an unusual, budget-friendly meal!
Address: 7, Jalan Austin Height 8/3, Taman Mount Austin
Opening hours: 4 pm – 12 am (closed on Monday)
8. Krusty · J. Crab
Highly recommended! Tampoi Malay Restaurant Big Mac Alaska King Crab + Lobster Nasi Lemak, too evil ~ King size king crab, full of meat, with unparalleled sweet taste, is definitely the "king of the crab"! They also serve this Big Mac meal, with French fries and creamy sauce!
Address: 49 Jalan Bukit Aliff 4, Taman Damansara Aliff, Tampoi, Johor Bahru
Opening hours: 2:30pm-11:00pm (one to five) / 2:30pm-11:30pm (six days) Closed on Wednesday